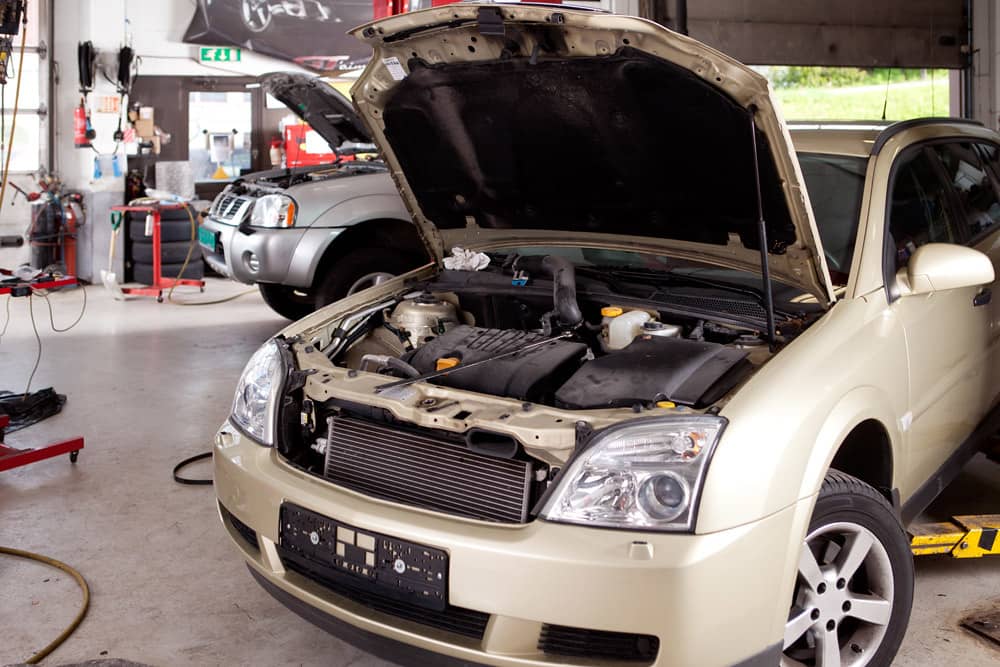 Whether you drive a brand-new Ford F-150 or you purchased your pre-owned Ford Explorer from L&L Motor, it's important to protect your investment by following Ford's recommended maintenance schedule, especially if you live in Roosevelt, Utah. Our dealership's service department recommends that local Ford owners follow these important service tasks for proper vehicle upkeep.
Oil Change
If you're not giving your Ford car, SUV, or truck regular oil changes, you're going to find out why keeping your Ford's engine properly lubricated is critical for driving in Utah.
Not only does getting regular motor oil flushes ensure peak performance, it also helps mitigate the chance of major engine failure by providing cooling, lubrication, cleaning, and sealing. Bring your Ford to L&L Motor every season for fresh motor oil.
Oil Filter Replacement
Each time you rev your Ford Mustang or start your Ford Escape in the morning, oil runs through the "veins" of its engine. The oil filter is present to sift out contaminants and keep the fluid clean.
Just like your arteries can get clogged after years of eating greasy cheeseburgers, your engine can experience buildup, too, as circulating oil can carry contaminants that clog up the filter. That's why it's important to replace the oil filter at least once a year, depending on how often you drive.
Tire Rotation
Car tires take a beating here in Utah. As you traverse our state's roadways, the tires can wear unevenly. To combat uneven wear, you should have them rotated from front to back (or side to side, depending on the wear pattern). This helps extend the life of your tires. We'll quickly and gladly perform this task here at L&L Motor for you.
Engine Air Filter Replacement
Though the wide-open plains are one of the best reasons to live in Roosevelt, Utah, longer driving times mean your engine is exposed to the elements longer. Road debris, bugs, and road sludge can all clog the engine air filter, prohibiting fresh air from entering to keep the engine cool.
If you remove the filter from your Ford Super Duty and it's tarnished by gunk, it's time to replace it with a fresh filter at L&L Motor.
Cabin Air Filter Replacement
If you suffer from allergies during springtime but you are able to find refuge from Utah's pollen and ragweed in your Ford Expedition, thank your cabin air filter for protecting. It works just like the one in your house's HVAC system by purifying the air you breathe inside the car cabin.
Over time, this filter can get clogged too. Replacing it regularly also helps keep the A/C working properly during the hot summer months, which is important for living in this region.
Brake Pad And Rotor Replacement
When it comes to safety, there is no system on your Ford Bronco more critical than the brakes. If you hear squealing, feel vibrations, or notice increased stopping distance, it's time to bring your Ford to L&L Motor for a brake checkup.
Our skilled technicians will let you know how much brake life you have left - if any - and if we recommend replacing the brake pads or rotors ASAP.
Fluid Flushes
Flushing your Ford Edge's other operational fluids keeps the engine running smoothly as it works hard to perform during frigid Utah winters and scorching summers. If you don't flush the coolant and transmission fluids according to Ford manufacturer recommendations, you could end up with costly repairs down the road as contaminants build up and degrade those vital systems.
Climate System Upkeep
Of course it's important to keep the interior of your Ford Ranger comfortable so you don't break a sweat while driving during the summertime. Having a cool car in the summer and a warm car in the winter also helps prevent dangerous engine overheating and driver exhaustion. If you think your car's climate system isn't performing as well as it used to, visit L&L Motor for an inspection.
We at L&L Motor are here to help you take good care of your Ford truck, SUV, or sedan so you'll continue driving it in Roosevelt, Utah, for years to come. Schedule an appointment with our service center for whatever maintenance work your Ford needs.